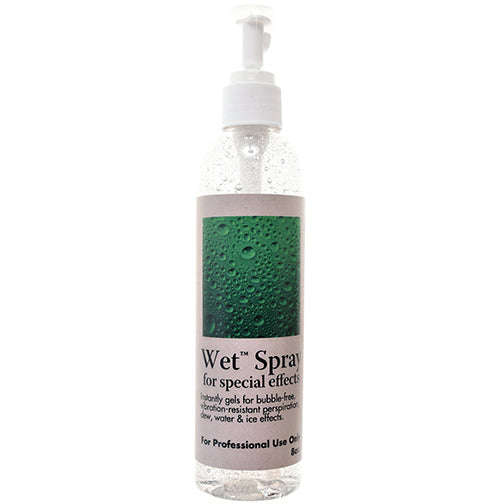 Ultra Wet Spray
Sold out
Original price
$35.00
-
Original price
$64.20
A thick gel that creates super smooth, wet-look effects on skin, hair, clothing, foam creatures and sets.
UltraWet™ Wet Look Stuff contains glycerin to make it resistant to drying out, its sister product, UltraSweat™ Wet Look Stuff has the same formula except without the glycerin.
UltraWet™ Wet Look Stuff is the right product to use on foam models and sets. The glycerin tends to prevent it from drying out and damaging the foam model. Glycerin, however, causes eye sting. So, UltraSweat™ Wet Look Stuff is preferred when there is any chance that it might get into an actor's eyes. There are several different effects that you can get with either product. You can apply it in either a thick or thin layer. You can add water to thin it down. You can apply it directly to the skin or hair. For close-ups, you can coat the skin with an oily substance, such as Bull Frog™ sunscreen, then spray a dilute solution of UltraWet™ or UltraSweat™ Wet Look Stuff on top of the oily substance to create a droplet effect.
UltraWet™ and UltraSweat™ are widely used in action films.
Thin with water. Wipes off easily. Wash off with plain water. Water-based with glycerin added to inhibit drying. Non-toxic.