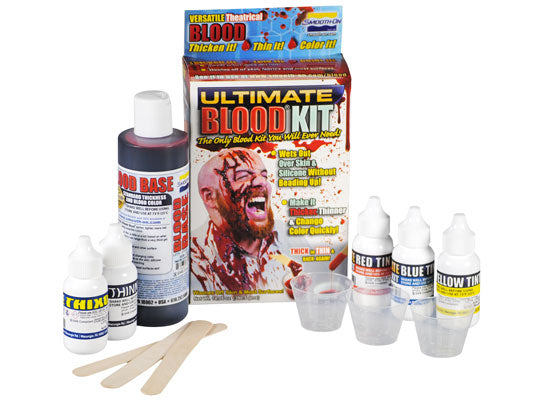 Ultimate Blood Kit
Save

$0.00
Save

$0.00
Original price
$54.50
-
Original price
$54.50
Special Effects Blood System
The Ultimate Blood® Kit is the most realistic and versatile liquid blood system available anywhere. It perfectly simulates human blood in how it looks and flows. Ultimate Blood® is ideal for creating special effects, medical training and simulation, moulage or any project in need of highest quality theatrical stage blood. Ultimate Blood® was tested and passed for skin sensitivity per OECD Test Guideline 439. This test was developed to determine skin sensitivity of materials.
Ultimate Blood, Ultimate Control – Make it Thicker, Make it Thinner & Change Color. You can change the viscosity of Ultimate Blood® on the fly. Change color quickly with color additives.
Features
Quickly make Ultimate Blood® darker, lighter, more red, less red, etc. using supplied colors.
Quickly thicken or thin (a little or a lot) based on what you need and change again as needed. Viscosity can range from a very thick gel to very thin. Thin enough to be sprayed (or flowed) without changing color. A single batch can be thickened and thinned multiple times.
Ultimate Blood® wets out over skin, silicone and other surfaces without beading up.
Ultimate Blood® dries to a wet finish without changing color.
Dried Blood remains flexible on the skin, silicone and other surfaces without cracking.
Color washes off of skin and most surfaces and also out of most fabrics.