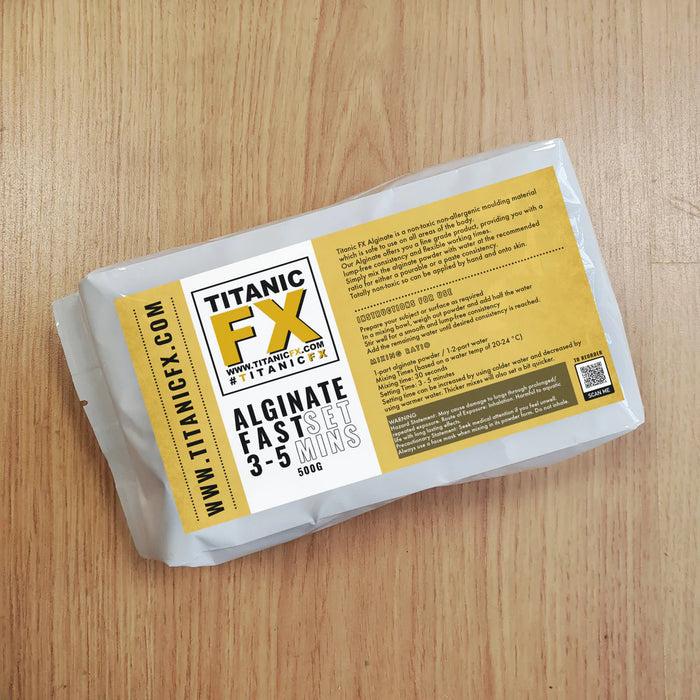 TITANIC FX Slow Set Alginate 500g
Sold out
Original price
$17.25
-
Original price
$17.25
Titanic FX Slow-Set Alginate
500g
Titanic FX Alginate is a non-toxic non-allergenic moulding material which is safe to use on all areas of the body.
Our Alginate offer you a fine grade product providing you with a lump-free consistency and flexible working times.
Simply mix the alginate powder with water at the recommended ratio for either a pourable or a paste consistency. Totally non-toxic so can be applied by hand and onto skin.
Instructions for use
Prepare your subject or surface as required
In a mixing bowl, weigh out powder and add half the water
Stir well for a smooth and lump-free consistency
Add the remaining water until desired consistency is reached.
Mixing Ratio
1-part alginate powder / 1-2-part water
Mixing Times (based on a water temp of 20-24 °C)
Mixing time: 45 seconds
Setting Time: 8-10 minutes
Setting time can be increased by using colder water and decreased by using warmer water. Thicker mixes will also set a bit quicker.
WARNING
Hazard Statement: May cause damage to lungs through prolonged/ repeated exposure. Route of Exposure: Inhalation. Harmful to aquatic life with long lasting effects.
Precautionary Statement: Seek medical attention if you feel unwell. Always use a face mask when mixing in its powder form. Do not inhale.