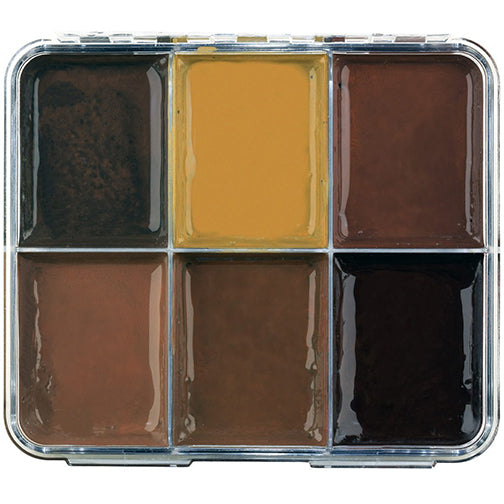 Sian Richards Alco-Colour Palette
Save

$0.00
Save

$0.00
Original price
$103.00
-
Original price
$103.00
Alco Colour is a pigment rich multi purpose vinyl paint that you activate with Ispopropyl (70-99%) Alcohol.
Do you love doing Special Effects and Character makeup or do you long to cover tattoos with ease and have that coverage last all day? Perhaps you need to paint onto hair to either get rid of grey or create something new temporarily? If this sounds like you then you need Alco Colour! This is what the pros use!
Treat it just like any watercolour paint or acrylic paint but substitute the water for alcohol. Alco vinyl paint that is activated with either 99% or 70% Isopropyl alcohol. You can take the consistency from incredibly translucent to opaque depending on how much alcohol you thin it down with.
When it dries, it is flexible, waterproof, buildable and long lasting. We have generously filled each well of pigment to ensure longevity and made it conveniently in a pocket sized palette that fits nicely in your back pocket.
Disclaimer:
All the Alco Colours are hand made in the USA. They are Vegan and Celiac Friendly, Peanut Free and all pigments have been FDA approved. They have been photographed wet in order to convey the true colours you can experience in application. However, you may notice some small air bubbles within each dry paint in the palette. This is due to the manufacturing process as the paint is poured in layers to ensure the pigments are evenly dispersed. This does not affect the overall weight of paint, nor does it affect the performance and density of pigment and is part of the curing process.