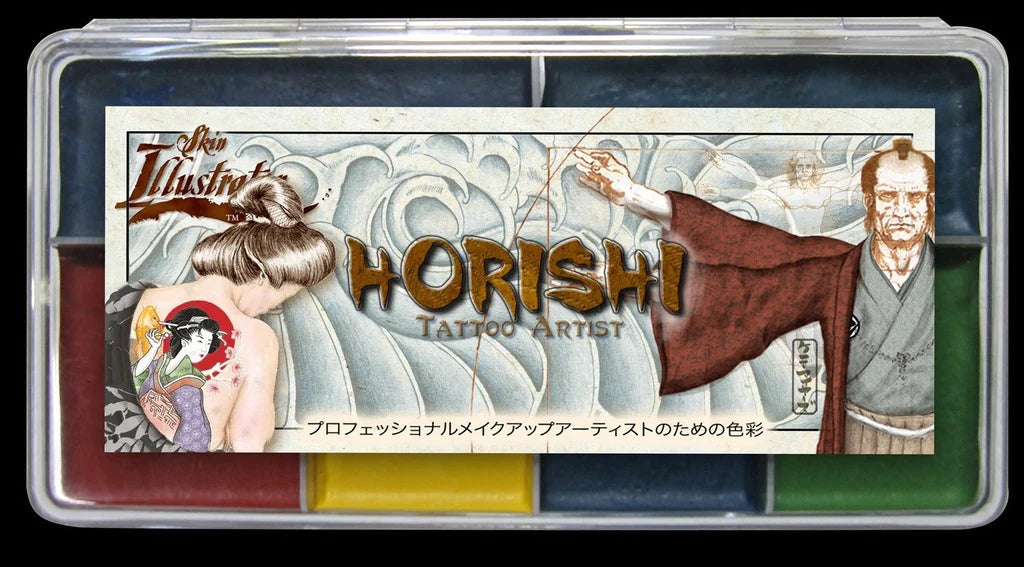 PPI Horishi On Set Palette
Save

$0.00
Save

$-98.00
Original price
$98.00
-
Original price
$98.00
The Ancient art of Horimono (traditional japanese tattoo), can now be taken to a modernistic level with the HORISHI PALETTE.  Four new colors have been combined with the 'Aged Black Liner' and 'Aged Green Liner' colors from the Tattoo Classics Palette to produce the most versatile tattoo palette available.  This combination of colors will allow you to recreate any era and style of tattoo, from classic Japanese and WWii tattoos, to modern day styles.  Use the HORISHI PALETTE to make a tattoo from scratch (with or without outline transfers), touch up an existing tattoo or change a color.  With HORISHI in your kit, your tattoo art won't need anything else.
NB.  Due to the high pigment content and lack of unnecessary fillers in the Skin Illustrator color system, cracks, bubbles and any shrunken appearance that may occur in some dried color cells does not affect the quality or performance of the product in any way. 
You must use Skin Illustrator Activator,  Skin Illustrator Slow Activator,  or 99% alcohol to activate the color pigment.  Do Not use  70% alcohol, MEK, acetone, water or any other solvent.
 Removal is easy with Telesis Super Solv or Telesis Makeup Remover.