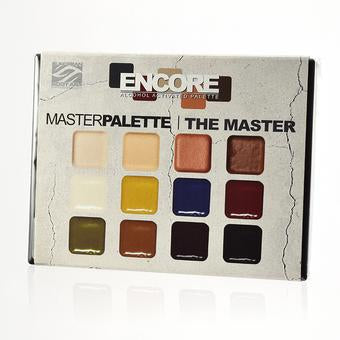 Master Palette - The Master
Save

$0.00
Save

$-3.70
Original price
$75.60
-
Original price
$75.60
The Master includes: N1, W1, C5, W9, Prime White, Prime Yellow, Prime Blue, Prime Red, Olive Tone, Nicotine Stain, Bruise Red, and Black
EBA Master Palettes are the perfect solution when space and budget are limited and yet more color choices are desirable. EBA Master Palettes come with 12 colors and a small pocket size case which is equipped with EBA's signature magnetic platform which holds the individual pans in place while offering artists the flexibility to design a custom color palette. This versatility allows the artist to remove or replace each color individually, when needed, to fit the job or to simply refill.
Further, the colors inside of the palette are separated from one another by a removable acrylic grid. This enables an easy clean up and keeps the palette organized at all times. Lastly, the Master Palettes come with a white solvent proof mixing area built into the lid of the case to blend colors as desired. 
The compact size and increased number of colors make EBA Master Palettes an ideal candidate when it comes to limited spaces, smaller jobs, creating an introductory palette or an on set touch up palette.
EBA Master Palettes can be completely customized to fit your needs or ordered in the following four standard styles: The Master, SFX Master, Skin Master and Brow Master.