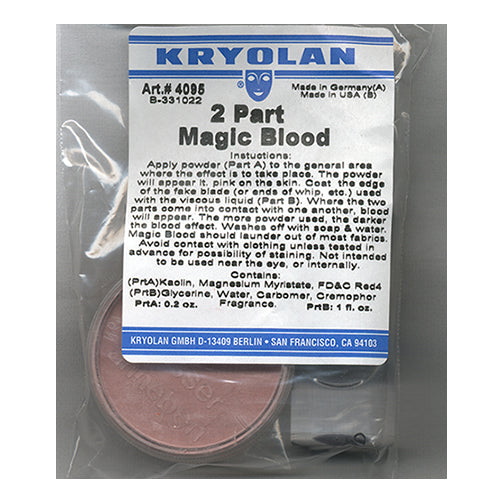 Kryolan Magic Blood Powder
Sold out
Original price
$23.00
-
Original price
$23.00
This 2 part blood compound from Kryolan is perfect for achieving a real time cut effect. Simply apply the powder to wherever you want to see the cut happen, apply the liquid to whatever will do the cutting, and once the two parts meet, it'll be bloody amazing!
APPLICATION:
Apply the powder (Part A) to the general area where the effect is to take place. The powder will appear pink on the skin. Coat the edge of the fake blade (or ends of whip, etc.) used with Part B. Where the 2 parts come into contact with each other, blood will appear. The more powder used the darker the effect. Washes off with soap and water.
Magic Blood should launder out of most fabrics. Avoid contact with clothing unless tested in advance for possibility of staining. Not intended to be used near the eye or internally.