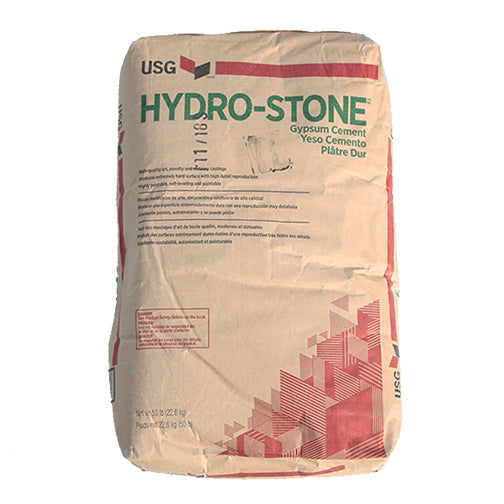 Hydrostone 50lb Bag
Sold out
Original price
$52.20
-
Original price
$52.20
DUE TO MATERIAL SHORTAGE WE ARE NOT EXPECTING STOCK FOR THE NEXT 6 MONTHS.
Hydro-Stone® Gypsum Cement
One of the hardest and strongest Hydrocal® products, Hydro-Stone® Gypsum Cement is used in the fabrication of high-quality art novelty and statuary castings. Offering excellent paintability, Hydro-Stone® Gypsum Cement:
Can duplicate extremely fine details
Works well in plaster and most flexible moulding compounds
Is self-leveling, with low viscosity
Provides fast set time for quick mold turns
MAIN FEATURES
Hydro-Stone® Gypsum Cement is especially suitable where high strength and resistance to water absorption are necessary. It is ideal for applications in both the tooling & prototyping and art & statuary categories.
Features a heavy, syrupy consistency, ideal for pouring into solid models or patterns (and making it ideal for filling multiple molds simultaneously)
Adapts to most flexible moulding compounds, due to its high absorption resistance
Sets in 17-20 minutes, after machine mixing
Requires 32 parts water by weight per 100 parts plaster.