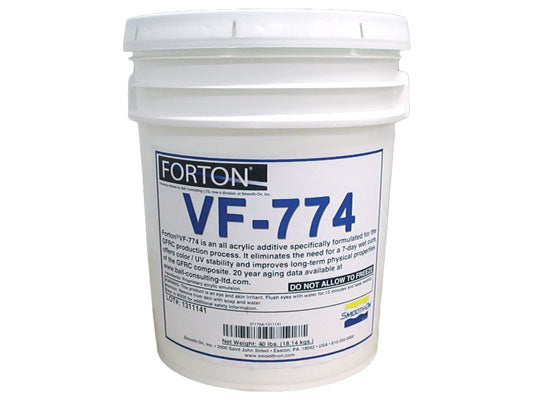 Forton VF-774
Save up to

$144.95
Save

$-57.75
Original price
$195.25
-
Original price
$1,973.57
Acrylic Co-Polymer For Use In GFRC
Forton® VF-774 is an all acrylic, co-polymer dispersion (51% solids) specifically formulated for the GFRC production process. VF-774 is UV stable. It is further formulated to be stable and durable in the high pH Portland cement-based GFRC composite.
Features
The Primary Benefits of Using Forton® VF-774 are:
• Elimination of the seven day wet cure required to achieve the maximum strengths of the GFRC composite.
• Significant improvements in the long-term durability of the GFRC composite, especially the maintenance of the long-term flexural strain to failure property, i.e. ductility of the composite.