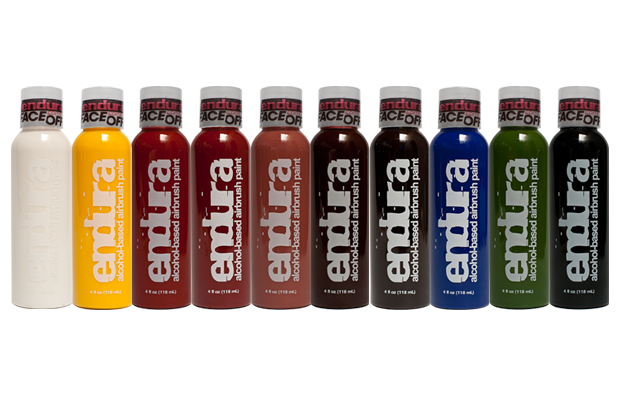 Face-Off SFX Collection 10-Pack
Save

$0.00
Save

$0.00
Original price
$202.80
-
Original price
$202.80
ENDURA FACEOFF SFX COLLECTION
Endura Face Off SFX Edition consists of six primary and four special/SFX colors designed to create all sorts of skin effects including fresh and dried blood, cuts, bruises, burns, scars, skin irritations, black eyes, veins, contusions, and etc.
WHAT'S INCLUDED
• Endura SFX Color Pack: Prime White, Prime Yellow, Prime Red, Fresh Blood, Mauve, Bruise
Red, Dried Blood, Prime Blue, Prime Green, Prime Black
• Vinyl zipper bag
The Endura Face Off SFX six primary colors (black, white, yellow, red, blue and green) provide a neutral look that is not overly bright nor overly dark and are used primarily to combine and blend with the fx colors.
The four SFX colors (fresh blood, dried blood, mauve and bruise red) can be combined and blended with other colors or used alone to create highly realistic skin distortion effects. The Fresh Blood comes with a slightly yellow undertone and is designed to achieve a fresh looking oxygenated blood effect. On the other hand, the Dried Blood provides a slightly darker shade to create the illusion of fresh dried blood (not an aged blood). Use Mauve Flesh Tone to create natural looking burns, cuts and irritations or highlights where a pink tone is desired. The Bruise Red tone can create bruises and contusions with a red undertone. When used in combination with primary colors and Bruise Purple (see EBA Face Off Undead Edition) the Bruise Red can assist in creating anything from classic color changing bruises and black eyes to deep cuts and contusions.
ENDURA FACE OFF APPLICATION:
• Haunt makeup
• Film and prosthetics
• Theatrical makeup 
• Special FX makeup
• Airbrush Tattoos
• Face art
• Body Painting
• Cosplay 
• Underwater commercials
• Stage and performance makeup
ENDURA FACE OFF ADVANTAGE:
• Water, sweat and transfer proof 
• Rich coverage
• No cracking
• Instant drying 
• Highly realistic colors
• Low viscosity, low psi settings  
• Applicable with airbrush, brush or sponge
• Easily Removable with VAPORE or UNVEIL
• Matching colors in Encore alcohol activated palettes available
• Made in the USA by EBA
• Exclusive formulation 
• FDA approved ingredients
The Endura Face Off makeup provides exceptional wear ability and water resistance when used on human skin and it also holds extremely well when used on foam, latex, rubber or encapsulated silicone prosthetics. All ingredients are of a cosmetic grade and all pigments are approved by the FDA.
For more realistic and translucent effects the Endura Face Off SFX colors can be cut down with the Transluz thinner without sacrificing the quality and consistency of the paint.
Endura SFX can be easily removed with EBA's alcohol based VAPORE or with the alcohol free UNVEIL makeup moisturizing remover.