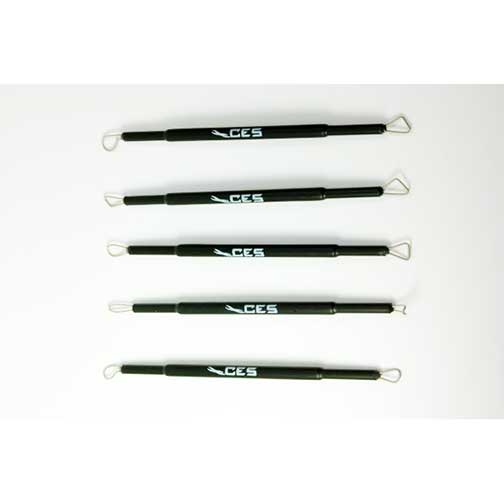 CES Micro Rakes Set
Save

$0.00
Save

$0.00
Original price
$76.35
-
Original price
$76.35
CES Micro Rakes Set MRS-1
Clean, Smooth Shaping and Detailing
Micro Rakes are detailing and shaping tools that have a unique ability to "clean up after themselves"! The ridges in the wound wire actually greatly reduce the amount of clay that balls up, needing to be brushed away! They also leave cleaner tool marks behind than other shaper and detail tools.
This set of 5 hand-crafted, micro rakes are essential for quick, clean detailing of clay sculptures or for polymer clay, ceramic clay, and doll making. After using, just brush smooth with a solvent that is appropriate for the clay, or Talcum powder.
Double-ended wound music wire tools for creating smoothed out details such as wrinkles, folds, and eyelids. After trying these, they'll be some of your most-often reached for tools!
Features:
Overall lengths are approx. 5.5" (139mm)
Metal handles
Tools ends are affixed to handle using industrial epoxy for strength and durability
Rubberized handles for no-slip grip
.038" (.96mm) nickel wound music wire ends
Tool ends are about 3/8" long from the handle and up to ¼" wide. (9.5mm X 6.3mm)