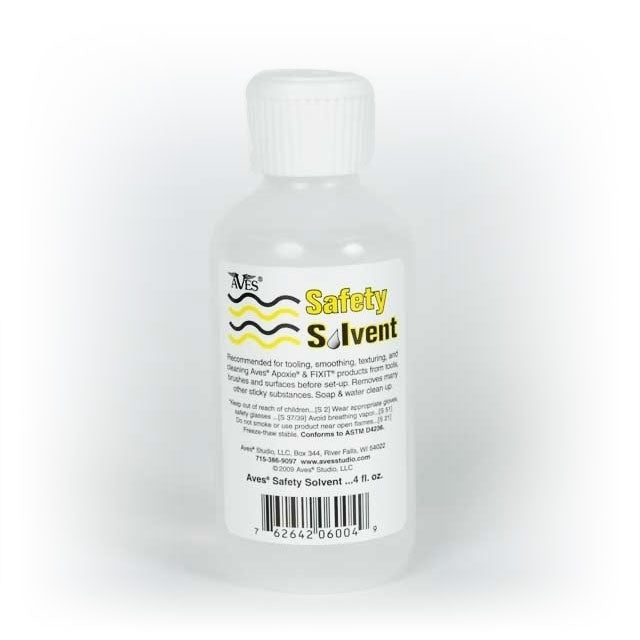 Aves Safety Solvent 1oz
Save

$0.00
Save

$-6.00
Original price
$6.00
-
Original price
$6.00
Easy clean-up  & Smoothing agent, For use with Aves® Apoxie® & FIXIT® products & other epoxy brands. Aves® Safety Solvent makes finishing work & clean up easy! Use with Aves® Apoxie® & FIXIT® products. Works great with other brands of epoxy. Recommended for smoothing, seaming, feathering, texturing, tooling, and quickly cleaning your tools, brushes and surfaces. Remove excess material, fingerprints, unwanted residue and film from your project using a couple drops of Safety Solvent on a paper towel, brush or Q-tip before epoxy sets up. Also removes saps, inks, markers, paints & stains from fabrics, brushes and other surfaces. (Always test surface or fabric for color fastness & structure).
Features
Aves® Safety Solvent is safer than most all solvents available.
Conforms to ASTM D4236.
Great replacement for acetone & other commonly used toxic solvents.
Clear liquid. Low flammability, high flash point. Low odor and fumes.
Freeze-thaw Stable, Incredible shelf life!
DOT Certified for shipping by air, land or sea.
Does NOT contain alcohol, M.E.K.P, paint thinners or other harmful substances found in similar products.
Companion product for use with Aves® 2-part products and other epoxies.
Aves® Safety Solvent comes in a flip-top plastic squeeze bottle & 3 convenient sizes.
Available exclusively through Aves® Studio and its distributors.
Directions
Water clean-up!
Protection & Control Measures:
WARNING H313 – May be harmful in contact with skin. H320 – Causes eye irritation. H227- Combustible Liquid. H305 – May be harmful if swallowed and enters airways. Aves® Safety Solvent Conforms to International Safety Standard ASTM D4236.*Keep out of reach of children. Wear gloves & safety glasses. Keep container closed when not in use. Ventilation should be used. Do not smoke or use product near open flames. Simple water cleanup is recommended.
Tips
Aves® Safety Solvent also removes inks, markers & stains from dry erase/white boards, Fabrics, and other surfaces. (Always be sure to test surface or fabric first for color fastness & structure.)