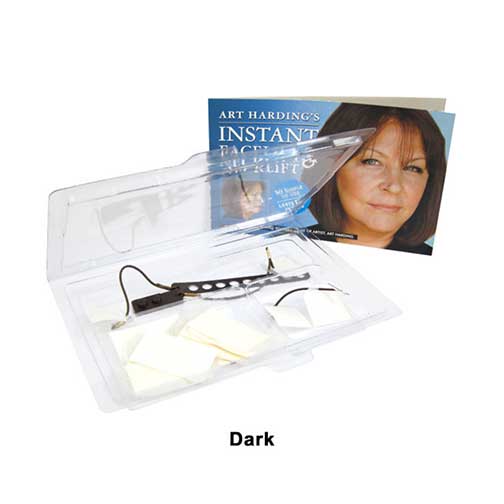 Art Harding's Instant Facelift & Neck Lift Dark
Save

$0.00
Save

$0.00
Original price
$31.00
-
Original price
$31.00
Art Harding's Instant Face and Neck Lift was once known only to makeup artists as an easy way to give actors a more youthful appearance on screen. But it's now available for everyone who wants a temporary lift. Without drugs or surgery!
Besides making your neck more beautiful, eyes are opened, cheeks are smooth and excess skin of the chin is drastically diminished.
It is an easy and safe method that instantly takes years off of a person's appearance by smoothing and lifting the skin and redefining the cheekbones. For over 50 years, devices similar to the INSTANT FACE LIFT have been a secret weapon in film, television and theater. The industry took away the years but required the precision and skill of both a makeup artist and hairdresser. UNTIL NOW.
Sun exposure, gravity and genetics all play their role in the aging process. As our faces begin to mature one sees the lines around the mouth begin to drape and shadowed creases highlight the droop. The nasolabial folds (affectionately called smile lines) grow prominent. The jaw line loses elasticity and jowls appear. And unlike other body parts we may wish to conceal, the face can't be so easily hidden.
With the INSTANT FACE LIFT, a youthful appearance doesn't require invasive procedures and expensive potions; the changes are subtle but powerful, sculpting but never startling. The lines are smoothed but not frozen. It's you, only better.