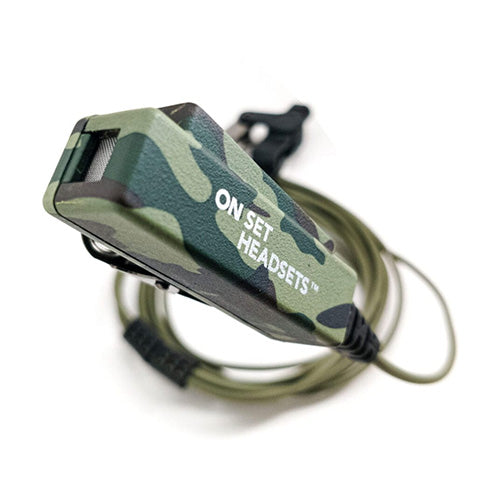 On Set Headsets - FilmPro Surveillance Headset
Save

$0.00
Save

$-65.95
Original price
$65.95
-
Original price
$65.95
The FilmPro is a High Quality Walkie Talkie Headset. Built to take on 100,000 click for the toughest surveillance jobs out there!
The best rugged and strong Motorola radio earpiece manufactured to withstand the Special Effects Department's extreme environmental conditions.
The FilmPro is the brand most trusted by film and security crews!
FEATURES: Kevlar Reinforced Cable Assembly, Water Resistant Mic, Medical Grade (Hypoallergenic) Silica.
Motorola 2-pin (M1) Compatible Connector w/ Acoustic Tube & Interchangeable Earplug.
On Set Headsets manufactures high quality walkie-talkie headsets, and is the brand most trusted by film crews and security! Built strong, durable and rugged in order to withstand any environment the special effects department throws your way! Immediately you will notice the difference in our solid internal components that won't leave you ill-equipped on the job. There's nothing worse than having a 4am call, and notice at last minute that your cheap headset doesn't work, and you have to scramble for a new one. Our FilmPro Headset is a durable and rugged Motorola radio earpiece known for its dependability, clear sound, and intelligibility and built to withstand: Cold weather down to -14 degrees; Rain towers; Fog machines; Explosions; Desert, snow, humid, wet, and dry climates. Crisp and clear sound & intelligibility. Professional, discrete, and comfortable.
FACTORY TESTED FOR DURABILITY: Wires and buttons are made to take on over 100,000 clicks.
FILMPRO DESCRIPTION: Kevlar reinforced cable assembly, H2O resistant mic, Medical grade (hypoallergenic) silica * 1 Year Warranty – Motorola 2-pin (M1) compatible connector – Quick disconnection Acoustic tube – Interchangeable earplug w/ Ear Tip – Clear Sound Quality – Professional, discrete, and comfortable – USES: Film & Television Productions, Security, Sports, Special Events, Conferences, Conventions, Trade Shows, Personal.