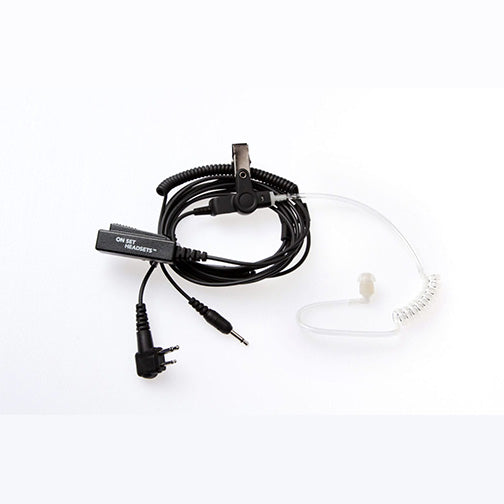 On Set Headsets - Film Pro X
Save

$0.00
Save

$-99.95
Original price
$99.95
-
Original price
$99.95
The FILMPRO X includes: our high quality FILMPRO walkie talkie surveillance headset, a 3.5mm AUX cable for radio & comtek or IFB monitor, and a FREE travel case! On Set Headsets make high quality walkie talkie surveillance headsets made for film crews that will withstand any environment the sfx department throws at them! Immediately you will notice the difference in our military grade specs and solid internal components that won't leave you ill-equipped on a film set. There's nothing worse than realizing at a 4am call that your cheap headset no longer works and you have to scramble to get a new one. Our FilmPro is built to withstand: Cold weather down to -14 degrees; Rain towers; Fog machines; Explosions; Desert, snow, humid, wet, and dry climates. Crisp and clear sound & intelligibility. Professional, discrete, and comfortable. FACTORY TESTED FOR DURABILITY: Wires and buttons are made to take on over 100,000 clicks. FILMPRO DESCRIPTION: MILITARY GRADE SPECS: – Kevlar reinforced cable assembly – H2O resistant mic – Medical grade (hypoallergenic) silica * Lifetime Warranty – Motorola 2-pin (M1) compatible connector – Quick disconnection Acoustic tube – Interchangeable earplug w/ Ear Tip – Clear Sound Quality – Professional, discrete, and comfortable.
INCLUDES:
•  FILMPRO Headset
•  3.5mm AUX cable for radio & Comtek of IFB monitor
•  A complimentary travel case
LISTEN TO:
1.  Your radio
2.  An external audio source…at the same time!
The brand new FILMPRO X provides you with the perfect toll to organize and protect your headset investment while giving you an extra 3.5mm AUX cord for radio and Comtek or IFB monitor.
Travel case available in colors: Black, Blue, Red and Purple