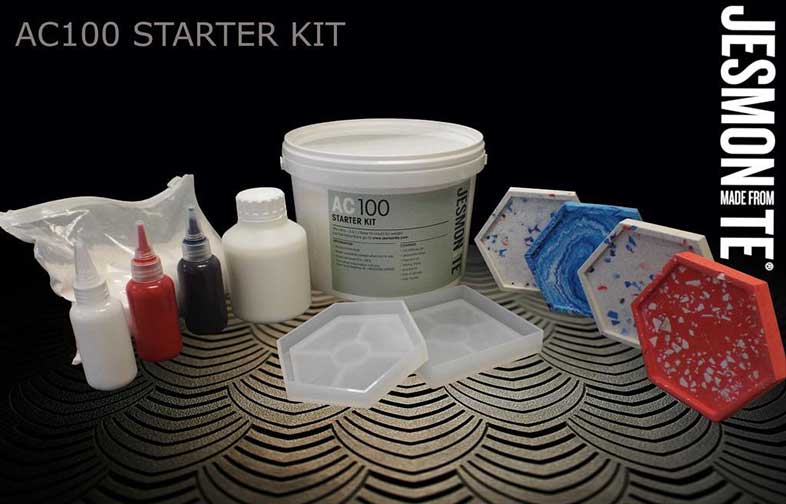 Jesmonite AC100 Starter Kit
Sold out
Original price
$64.75
-
Original price
$64.75
PLEASE NOTE THAT WE ARE NOT ABLE TO SHIP JESMONITE IF THE TEMPERATURE IS BELOW FREEZING
Jesmonite AC100 is a water-based composite material used to make decorative moulded objects. It is safe to use and contains no solvents or VOC's. It can be cast and laminated using our unique Quadaxial Glass. Natural colour is an off white/cream
Jesmonite Pigments are aqueous dispersions compatible with Jesmonite composites. When dispersed in Jesmonite materials they offer excellent chemical stability, heat stability, and UV resistance. 2% will produce a strong, saturated colour. For lighter colours simply reduce the addition rate until the desired colour is achieved. Pigments can also be intermixed to produce any colour. 
High-shear Mixing Blades are essential for the proper mixing of all Jesmonite composite materials. They are specifically designed for adding Jesmonite Base into Jesmonite Liquids. The mixing action reduces air bubbles and ensures that the mix is smooth and free from lumps.
This kit includes everything you need to get started.
Package contains:
850 gram AC 100 kit
3 x Pigments ( Red, Yellow, Blue)
2 x Silicone coaster molds
2 x Mixing sticks
Pair of disposable gloves
Instructions